PLEASE REVIEW BEFORE YOUR APPOINTMENT: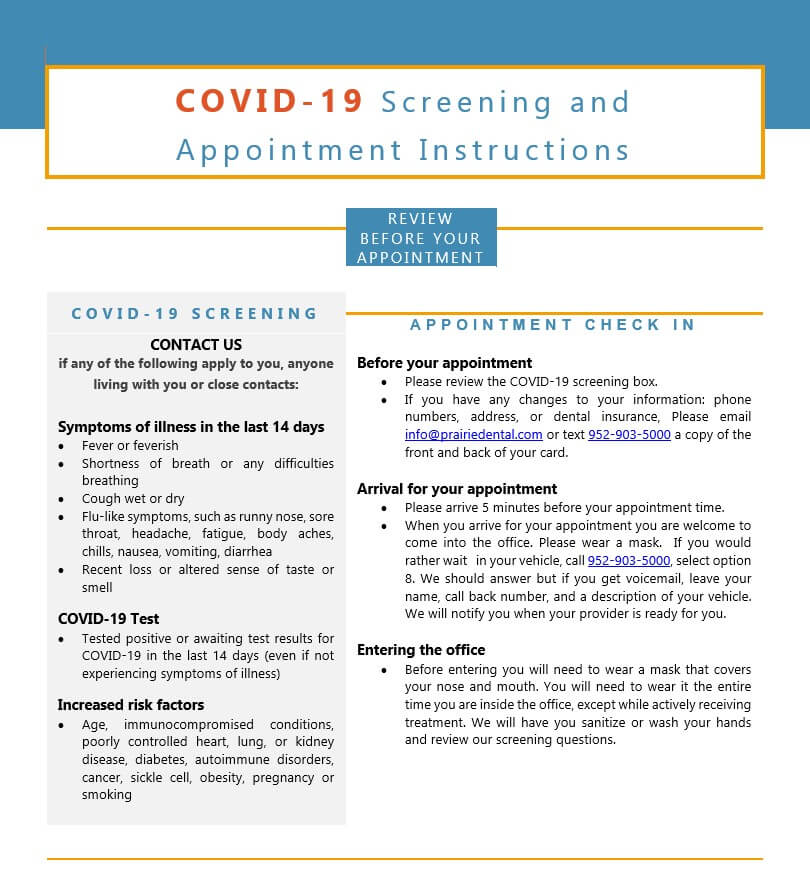 At Prairie Dental Group, infection control and patient safety have always been top priorities. Now more than ever, we are doing our best to ensure that our office and our practices are helping to reduce and prevent the spread of COVID-19 to keep our patients and community safe and healthy. If you have any questions about our new precautions, feel free to reach out to our front office for clarification. We appreciate your understanding and cooperation during this time, and we are excited to be providing non-emergency dental services once again.
Contact Us
Entering Our Office
Before entering our office, please wear a mask that covers your nose and mouth. If you wish to stay in your vehicle until the clinical staff is ready to take you back, please call us at 952-903-5000 from your car and then press 8 to let us know you have arrived and we will communicate when to come inside. Hand sanitizer is provided upon entry. We will take a touchless temperature scan and have you review the screening questions. You may notice that our office no longer offers magazines, children's toys, and so forth since those items are difficult to disinfect and keep clean. We are no longer offering snacks or beverages. We have rearranged our reception seating to allow for social distancing. We will do our best to reduce waiting times, as well as to reduce the number of patients in the reception area at any given time.
What Our Team is Doing
To keep both our patients and staff as safe as possible, we have installed plexiglass guards at office desks to facilitate social distancing. We have also added HEPA filters in each treatment room and the main hallway. In addition to wearing face masks, our team will also be changing into fresh lab coats in between patients, and all staff members are screened for COVID-19 before each shift. These new protocols have been added in addition to our previous practices, which include frequent and thorough hand washing and routinely sterilizing treatment rooms and common areas.