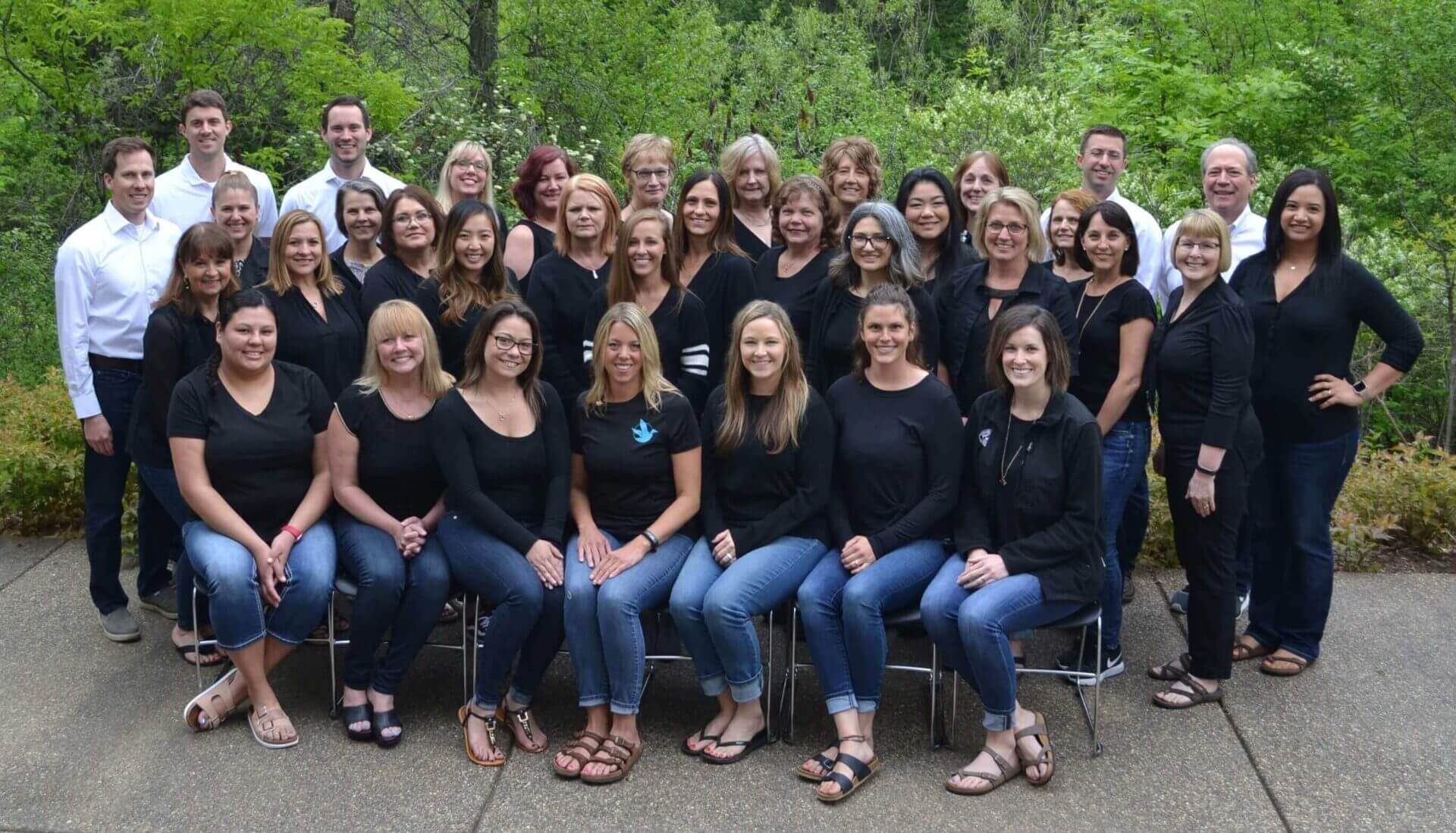 Family Dentist
in Eden Prairie, MN
Searching for a family dentist who is equipped to meet all of your family's needs? At Prairie Dental Group, we offer comprehensive family dental care in a welcoming, relaxing environment. Our goal is to provide you with an exceptional dental experience from start to finish. We aim to be your family's dental home for many years to come. Call to schedule your visit with our family dentist in Eden Prairie today!
Schedule Your Visit
Personalized Treatments
We possess a unique ability to tailor each treatment to meet the needs of the patient at hand. We understand that what works for one patient might not always work for the next and we're committed to personalizing your family's dental care. Whatever your dental needs may be, we're happy to help you find a solution.
Our broad range of services include:
Routine Exams & Cleanings
Custom Mouthguards
Dental Crowns & Bridges
Convenient Scheduling
Scheduling family dentist appointments can get a bit overwhelming when you have multiple family members. At Prairie Dental Group, we offer family-block appointments where you can get everyone in at the same time. Say goodbye to making multiple trips to the dentist throughout the year! If you're concerned about missing school or work to make your dentist appointments, we offer extended evening hours and weekend appointments. Our goal is to provide you with high-quality family dentistry whenever it's convenient for you!
Kid-Friendly Care
Serving as your family dentist means treating the little ones in your family, too. We understand the role we play in shaping your child's view of the dentist and we want to ensure their visit with us is nothing short of enjoyable. We take a gentle approach to your child's dental care so they feel comfortable with us. Each visit is filled with educational tips and tricks to help them establish healthy habits and reward them for a job well done!
Children's Dental Care FAQs
You want the best for your children, and so do we! Prairie Dental Group offers children's dental care that parents in Eden Prairie can trust. Below are some questions that we frequently get.
At what age should I bring my kid to the dentist?
You may be surprised to learn that a child's first trip to the dentist should typically occur around the appearance of their first tooth or by the time they turn one year old, whichever happens first. Even though your child won't have many teeth at this point, it's still important to make an appointment so we can ensure that their teeth and gums are healthy.
If your child is older and hasn't seen a dentist yet – don't worry! Just schedule an appointment with us at a convenient time and we will be happy to assess them.
How many times should I bring my child to the dentist per year?
Kids should visit the dentist just as often as adults, which means you should bring your children to see us at least twice per year. This is part of why we offer family block appointments, so you can schedule your child's routine dentist visits on the same day as yours.
Is dental insurance available for kids?
Many dental insurance plans offer coverage for dependents, and many times children can be covered under their parent's insurance until age 26. If you or your children do not have dental insurance, there are still affordable ways to pay for dental care. We have an in-house dental savers plan that covers both adults and children. We also accept CareCredit® which allows patients to split up their dental costs into equal monthly payments.
If you have any questions about your child's coverage or other financial concerns, please give our office a call and we will gladly assist you!