Dental Implants in
Eden Prairie, MN
As we get older, life can be tough on our smiles. Sometimes even a carefully followed oral hygiene regimen can't prevent issues like tooth loss from robbing you of the smile you used to know and love. And it's not just our senior patients; tooth loss can affect people of all ages. If your missing teeth are putting a real damper on your confidence, you don't have to settle for closed-mouth grins with sunken lips and cheeks. Now, you can restore your smile and confidence thanks to dental implants.
Change Your Life & Your Smile
If you're suffering from tooth loss, we invite you to take part in a life-changing procedure! Dental implants are a great way to restore your missing teeth and get you back to a smile that looks and feels great You'll be proud to show it off!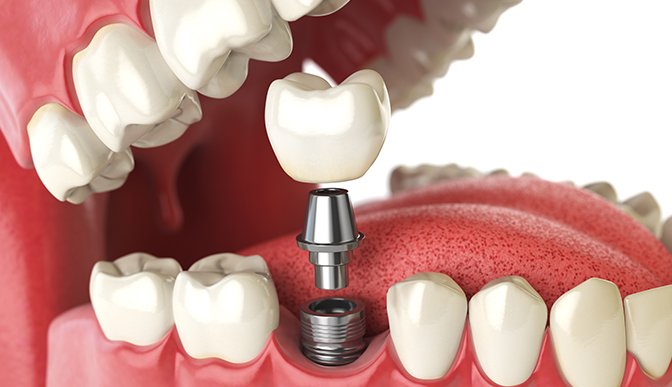 Dental Implant FAQs
What Are Dental Implants?
Unlike most tooth replacement options, implants replace more than just the crown of your tooth, they also replace the root. The dental implant itself is a small titanium post that we surgically place into your jawbone. The titanium is biocompatible so it fuses with your bone to create a stable foundation for the artificial tooth that we attach on top. Depending on the number of teeth you're missing and your preferences, we can top your implant with either a dental crown, bridge, or denture.
Benefits of Dental Implants
Implants are a popular tooth replacement method among patients and have a wide range of benefits.
Don't require additional maintenance, you can brush and floss normally
Long-lasting with proper care
Look natural and function like your other teeth
Preserve your facial shape
Prevent jawbone loss
The Dental Implant Process
Dental implants are small, titanium posts that go into your jawbone. They mimic a tooth's root and are the foundation for the tooth restoration that goes on top. Another great benefit of this is that the post actually prevents bone loss in the jaw that would otherwise occur. Once the post is secured, we can top off your dental implant with a crown, bridge, or denture depending on your smile's unique needs. Our natural-looking tooth restorations are fully customized to blend in seamlessly with your other teeth, so most people won't even be able to tell the difference — including you! It will also help fill out your lips and cheeks, instantly nixing that sunken look and giving you a more youthful appearance. It's an effective procedure that we can do all under one roof, so you don't have to deal with the hassle of being referred out. If you don't feel your age, don't settle for looking like it. An implant could be the answer for you!
Am I a Good Candidate for Implants?
If you're missing teeth, chances are that you're a good candidate for implants. However, there are certain dental issues our team will take into consideration before recommending implants. Candidates must have healthy gums and enough bone to support the implant. If you have gum disease, we can treat your gums to get them in great shape for implants. If you suffer from bone loss, we may be able to perform a bone graft to strengthen your jawbone for implant placement.
Contact us to schedule an appointment to see if implants are the right tooth replacement method for you!
Caring for Your Dental Implants
After the initial procedure, it's recommended to brush the implant area with caution for the first couple of weeks as it may be sensitive. Once you're all healed up, dental implants don't require any extra care other than the normally dentist-recommended oral health regimen. As long as you brush twice a day for two minutes each time and floss at least once per day, your implants could last you a lifetime. Learn more about post-op care for dental implants.
Affordable Dental Implants
At Prairie Dental Group, we believe in providing the community with affordable dental care that doesn't cut corners on quality. During your consultation, we'll provide you with an accurate cost estimate for your dental implants and go over your financial options to help you get a full, attractive smile once more.
Payment Options
Cash
Major Debit & Credit Cards
FSAs & HSAs
Dental Insurance
CareCredit®
If you're interested in finding out how dental implants can change your life, one of our friendly team members would be more than happy to answer any questions or concerns you may have. Call today!