Dental Bridges
in Eden Prairie, MN
Dental bridges are essentially three or more dental crowns that are attached together and used to restore the appearance and functionality of teeth. Bridges can serve the same purposes as crowns, like protecting and supporting damaged teeth, and they can also be used to replace one or more missing teeth. To learn more about our dental bridges and schedule your next visit with our team, please contact our office!
What are the benefits of dental bridges?
Dental bridges offer many benefits for anyone who needs to restore multiple teeth or replace one or more missing teeth. The benefits of dental bridges include:
Minimally Invasive
Cost Effective
Virtually No Recovery Time
Evenly Distributes the Force of the Bite
No Food Restrictions
Helps Prevent Nearby Teeth From Shifting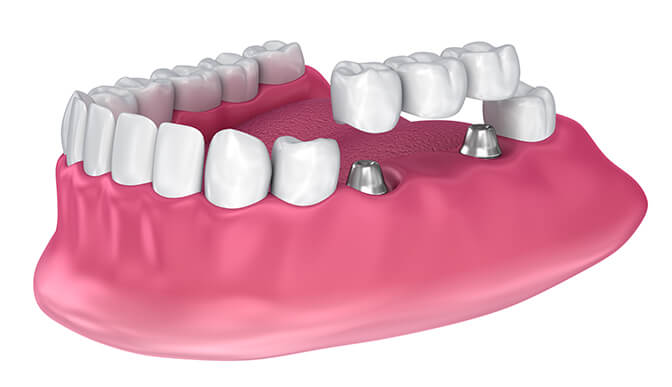 What is the dental bridge process?
During your first appointment, we will completely numb your teeth and gums using a local anesthetic. Next, any teeth that will be covered by the bridge will need to be reshaped so that the bridge can fit over them without looking bulky. Our team will then take impressions of these teeth and place a temporary bridge over them. Your permanent bridge should arrive from the lab in about two weeks, after which we will remove the temporary bridge and place your custom, permanent dental bridge.
Which tooth-replacement method should I choose?
If you are unsure of the treatment option that you would like to go with, we recommend scheduling a consultation with our team. Generally speaking, patients like dental bridges because they do not require oral surgery like dental implants, and they can be designed, created, and placed in just a few weeks. They can also be a good choice for patients who do not have enough jawbone density for one or more dental implants. During your visit, we will assess your smile and your your budget to help you determine if a dental bridge is right for you.