Invisalign® Clear Aligners
in Eden Prairie
Traditional braces can leave some patients feeling self-conscious about having a mouth full of visible metal. With Invisalign clear aligners, you don't have to hide your teeth while you straighten them. Clear aligner therapy allows patients to feel confident throughout the entire straightening process. Contact our office to schedule your Invisalign consultation!
Contact Us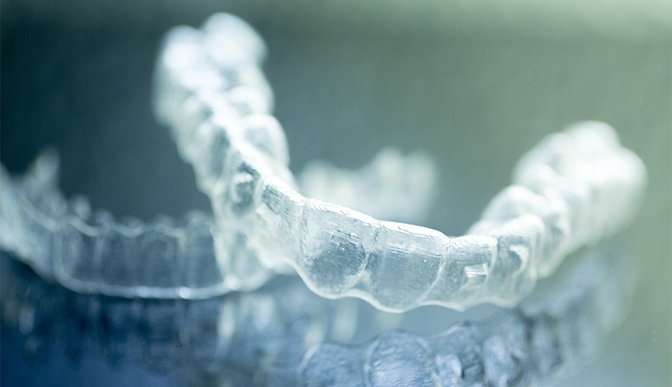 What Is Invisalign?
Invisalign utilizes a series of clear, discreet aligners to gently push your teeth into their ideal positions. It's a convenient, subtle teeth straightening method that can correct mild to moderate alignment and spacing issues.
The Invisalign Process
Before your Invisalign treatment begins, we'll work with you to determine the areas of your smile that need improvement and discuss your smile goals. Once we've determined that Invisalign is right for you, we'll take impressions of your teeth and map out your personalized treatment plan.
We'll send your impressions and treatment plan to an off-site lab where they'll create your custom aligners. You'll wear each set of aligners every day and move on to the next series every two weeks. Our team will send you home with a few sets at a time so you'll only have to visit our office every 4-6 weeks!
How Much Does Professional Teeth Whitening Cost?
The cost of teeth whitening depends on the type of whitening treatment you choose and the condition of your teeth. We offer a variety of financial options to help you fit a pearlescent smile into your budget. Don't let cost concerns keep you from getting the smile you've always wanted. Contact us to schedule your appointment!