Dental implants are one of the most versatile, natural-looking, and long-lasting tooth replacement options. Even better? The recovery process is quite simple too! Here are some things to expect and consider during the dental implant process.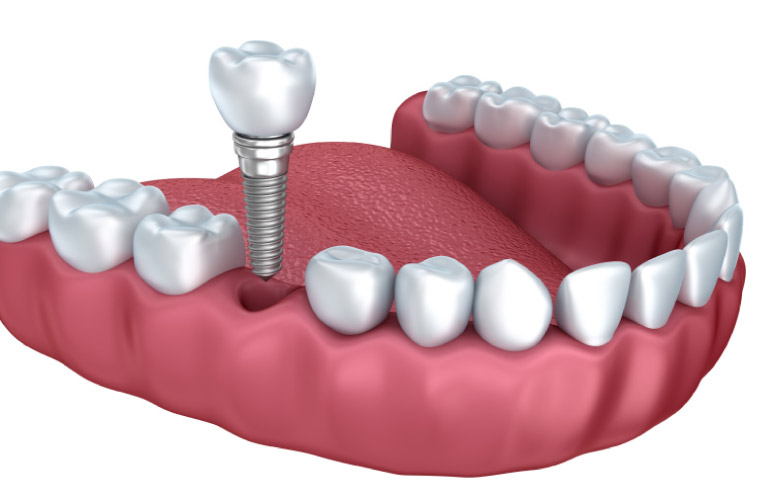 What Are Dental Implants?
Dental implants are a realistic tooth replacement option whether you are missing one or more teeth. An implant consists of a metal rod to anchor the implant and a crown (or bridges or dentures for multiple missing teeth) to give a natural-looking appearance.
Why Would I Consider Dental Implants?
Dental implants don't require any special maintenance and you can brush and floss around them as you would a normal tooth. They are also quite long lasting—a properly cared for implant can last up to 25 years. Dental implants also keep your jaw strong and healthy and help you retain your facial shape.
You should have strong gums and jawbones in order to get dental implants. If you have gum disease, we can treat it to get your gums strong for implants. If you have weak jaw bones, we can perform a bone graft and get those jaw bones stronger in no time.
What Is the Dental Implant Procedure Like?
The procedure is a multi-step process that can take upwards to a year. During your first appointment, your dentist will insert the titanium rod and give it time to fuse to your jawbone, they will then top it with a crown, bridge, or denture depending on what your smile needs.
How Can I Care for My Dental Implants?
After your procedure, you should brush around the implant area gently for the first couple of weeks to prevent any damage or pain. Once you are all healed, however, you can expect to care for your implants like you would your regular teeth! Feel free to brush them, floss around them, and smile more knowing that you have taken the steps to get your oral health in order!
Talk to Us About Dental Implants
If you are missing teeth, know that it doesn't have to be that way forever! Contact us at Prairie Dental Group so we can discuss if dental implants are the right choice for you. We look forward to giving you the brilliant smile you deserve!
Contact Us