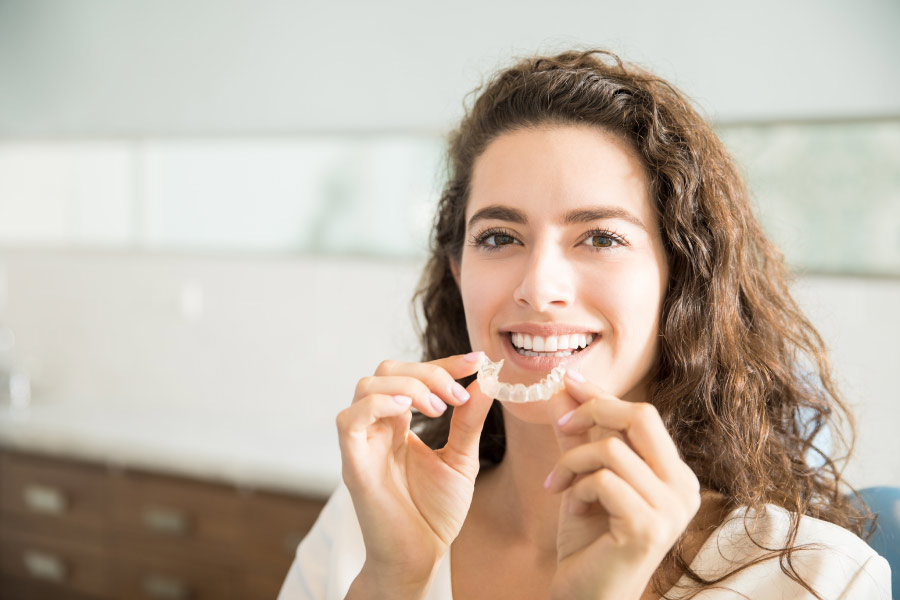 Invisalign® clear aligner therapy is an orthodontic solution that uses no wires or brackets to straighten smiles. But the benefits of Invisalign go beyond cosmetic improvements. Having straighter teeth can actually help improve your oral health. Here are some of the key reasons to consider straightening your teeth with Invisalign clear aligners.
1. Comfort
Invisalign uses custom-made clear aligners that slip over the teeth to shift them into their proper positions. Because it doesn't use any wires or brackets, Invisalign is more comfortable than traditional metal braces. The aligners gradually move your teeth so there are no drastic adjustments made at one time. Each new set of aligners are custom made for your smile and deliver a precise treatment.
2. Convenience
Invisalign aligners are removable and should be taken out during meals and when you brush and floss your teeth. This means that you can enjoy the same foods and oral care routine that you maintained before you started your treatment. Additionally, you can properly brush and floss your teeth even while you are going through orthodontic treatment.
3. Versatility
Invisalign addresses bite, alignment, crookedness, and rotation issues. It's also a good choice for patients who had braces as a teen but whose teeth have since shifted. Having a straight smile is not just good for pictures, it's good for your health. It is much easier to clean your teeth when they are straight because there's less chance of food or bacteria getting stuck in hard to reach places.
4. Improves Your Confidence
Invisalign gives you a smile you're confident to show off. This can improve your happiness levels and reduce your stress! A nice smile makes a very good first impression.
5. Short Treatment Time
During your treatment, you will receive new aligners that need to be changed out every 7 to 10 days to help shift your teeth further. Because Invisalign is so precise, treatment times are usually shorter compared to traditional metal braces. A typical Invisalign treatment lasts 12-18 months!
Affordable Invisalign in Eden Prairie, MN
Are interested in straightening your smile with Invisalign clear aligner therapy? Please contact our Prairie Dental Group team for a consultation! We'll help you decide if Invisalign is the best option for your smile and your budget. We look forward to seeing you!
Contact Us